Sheds, Summer Houses
The term pergola originally meant a covered walkway formed by plants growing up trellis. Today there are so many popular types of structure you can have in the garden, the term 'garden furniture' is often used to cover them all.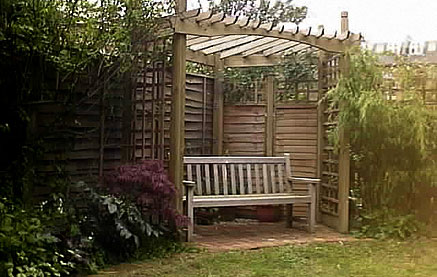 Choosing a pergola or arbor
Pergolas and other garden structures are traditionally made of rustic poles, but sawn timber is a popular alternative – especially when the pergola is combined with timber decking, or when a building forms one of the supports.
Sawn timber may be used in combination with brick columns or with painted scaffold poles serving as uprights
Hardwoods such as oak are often used for sawn timber pergolas, but softwoods are perfectly adequate as long as they are treated to be weatherproof
Pressure treated timber structures are often a wise choice as they are much more weatherproof
Pergola and arbor design and construction
We can supply you with pergolas to standard sizes and shapes. However if you are looking for something a little more imaginative and unique, we can construct and your designs.
Contact us today and claim your free estimate – we can quote you for designing and/or installing your garden structure.